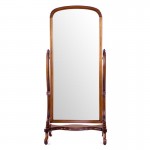 LSU Lady Tigers basketball Head Coach Nikki Caldwell spoke at the YWCA Greater Baton Rouge Connections luncheon today. Even though her style is casual and relaxed, she said some pretty profound things. This comes as no surprise though because she played college ball and also coached at Tennessee for Pat Summitt, one of the greatest coaches of all time. She then went on to more success as a coach at UCLA.
Coach Caldwell believes the foundation of leadership is sacrifice and service.
She also discussed team as an acronym for: Tolerate - Envious giving - Action - Me. Maybe I'll elaborate on her explanation of this sometime soon.
But, what I found most fascinating (and the reason for this post) is an activity she does during practice called "gut check". She takes a mirror out to the practice court and at some point during practice blows her whistle. All her players know to line up in front of the mirror and one by one walk up to it, look at themselves and then give their reflection either a thumbs up or a thumbs down. A thumbs up means 'I'm giving my all, my absolute best effort'. A thumbs down indicates less.
What a great check in! Look at yourself – are you doing what you should be doing? Are you giving your all? As a manager, are you providing a mechanism for your direct reports to reflect on their work?  Are your employees giving their absolute best effort?  Taking time to consider and acknowledge current level of performance is key to improvement and growth.
I really love the idea of a Gut Check and can think of many times and ways to use it, both personally and professionally. Thanks Coach!