Last weekend we saw comedian Bill Cosby in a 1500 seat theater. The size of the venue is important because the way he connected with the audience was just the darnedest thing. It felt very intimate even though we were on the top row. From the moment he walked out in blue sweatpants with white stripes and a sweatshirt that said Hello Friend there was just the most laid back feeling. He sat in a chair onstage and random people would walk up, talk to him and give him things such as a drawing or an apple. Throughout the show, audience members made comments and he calmly responded to them like neighbors talking at the kitchen table.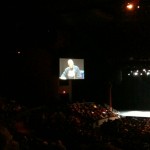 His hilarious routine was mostly about the relationship between men and women and husbands and wives. His 46 years of marriage were the basis for many of his observations and he was very funny about what I realize are universal experiences. Plus, he kept doing that power to the people arm gesture whenever the story included men's exasperation and confusion about women and marriage. By the end, half the men in the audience were doing it too! But it was all gentle and wonderful.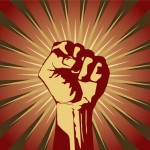 As someone who is working on being a better public speaker, I was really in awe of Coz as a master. To be so relaxed, to captivate the attention of 1500 people and to connect on such a personal level was amazing. And finally, it was curious how the show seemed to pass in a flash when it actually lasted more than 90 minutes!